Nativa is a workplace made up of many unique individuals. In this Nativa employee spotlight, we are going to highlight one of Nativa's Digital Content Managers, Jake Bova! Jake manages content through our Ohio office for the Ohio Army National Guard. Jakes takes a unique approach to marketing and it's something that we could all take into account to better our strategy.
Who is Jake Bova?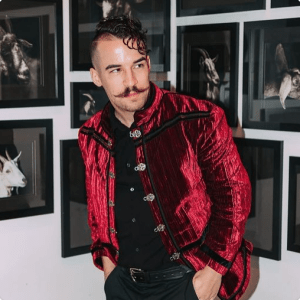 Jake is an Ohio native working out of Columbus, OH for the Ohio Army National Guard. He has been at Nativa for about a year and a half as a Digital Content Manager. He's had quite the journey to get to where he is today in the marketing realm. Jake graduated from the Columbus College of Art & Design in 2015 with a BFA in Cinematic Arts. With his start in arts, his passion became storytelling. Over time, he was able to do freelance videography for some companies but he eventually searched for a more stable role. Jake found his path to be in marketing. He was interested in telling a business's purpose (or story) to the consumer and how that could attract more people down the line. What aspects of this business make it unique and how can I show that to the customer?
Jake's Role at Nativa
Jake is a Digital Content Manager for the Ohio Army National Guard, directing their social media and brand voice. He works with the client on campaigns and pitches ideas for a creative delivery. He's also in charge of their content calendar, planning content weeks in advance for a streamlined upload process. Jake's goal in working with his client is to create genuine content. Figuring out what the audience is interested in seeing and really tapping into that has been consistent in Jake's work with the National Guard. He utilizes "the pleasure of real, mundane moments". One example of this is "soldier spotlights", giving you a personal look into a soldier's interests whether it be their hobbies on the weekends or their professional accomplishments. Jake also found that posts describing the specs on artillery also get significant amounts of engagement.
Jake's biggest piece of advice?
Don't hyperfocus on your competitors. If you're worrying too much about the content your competitors are putting out, you are losing your brand voice. In order to stay unique and true to your branding, you have to focus on what you're doing. Jake noted that the occasional check-in on a competitor's accounts doesn't hurt for benchmarking. However, anything past a competitive analysis can skew your content to fall in the shadow of your competition. Ask yourself what your company isn't doing, what they can do, and how they can do it.
Adapting to Covid as a Marketer
Jake noted that he really enjoys working remotely. He is always clocked in as a marketer, specifically in social media and digital content. Are the posts from that day doing well? What's my inspiration for next week's posts? Questions like this are always running through a marketer's mind to further elevate their content. He said that working at home makes a lot of sense for him because he's constantly getting inspiration in his day-to-day life. Along with that, it's helpful to be able to work on a rolling basis whenever he wants to at his home office. (The faster internet at home is another thing Jake's not complaining about!)
Get to know more about our team before our next Nativa Employee Spotlight!