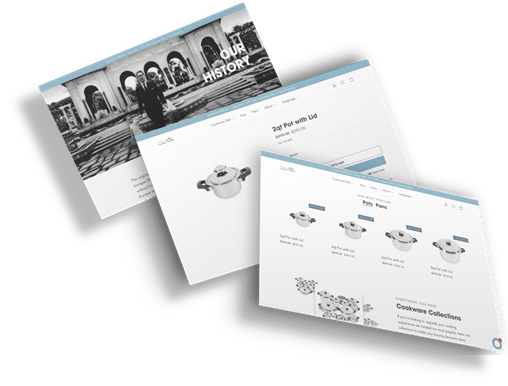 Nativa's Spectrum Entry for 2022 Award.
2022 Spectrum Awards
Nativa is honored to, once again, compete with the Valley's best and brightest marketing, advertising, and public relations agencies for the AMA Phoenix Spectrum Awards. Nativa received its third Spectrum Award last year for the best Multicultural Integrated Marketing Campaign. This year, Nativa hopes to come out on top again with its award entry: Casol Cookware 2021 campaign. Nativa wants to continue proving itself as a highly competitive marketing agency by showcasing its marketing projects that are truly groundbreaking in their approach and execution.
Casol Cookware Campaign
Nativa identified an immediate opportunity to increase Casol Cookware's brand awareness by expanding its online presence. As Covid-19 was going strong, Nativa knew that Casol had the capacity to be far more than a small regional cookware seller and found the perfect opportunity to expand Casol's products sales online and reach the national online audience.
Nativa gathered all the key past metrics, trends, and industry analysis to create a Digital Strategy Playbook. Nativa executed a campaign that reached the U.S. Hispanic and general market and redesigned Casol's website to sell to the target audience effectively. Nativa's new website design implemented a modernized branding, video previews of products, a live chatbox, and a review section so that people will feel comfortable making purchases directly from the casolaz.com website.
Nativa also understood that Casol needed to shift from targeting Spanish-speaking Hispanics and attract the general audience. By making the website's default language English, Nativa ensured Casol's expansion to the broader market, surpassing its sales expectations by the end of the first quarter of 2021.
The second phase of the campaign was to create relevant social media content, including videos, contests, campaigns, and digital ads, to increase awareness and online engagement. As a result of Nativa's marketing excellence, Casol tapped into a pipeline of diverse content that was relevant and inspiring to its potential customers and focused on providing an authentic voice that everyday consumers would relate with.
The Results
Now due to the Stripe-powered ecommerce website and Digital Strategy Playbook provided by Nativa, Casol is well placed to steady its climb to increased market share from the $19.5 Billion kitchen & cookware industry in the U.S. The digital marketing strategy also positioned Casol's website as the number 1 result when googling 'Casol AZ' as well as simply googling 'Casol'.
Wish us luck in the voting, thanks for reading!