Over the last few months at Nativa we have been consistently educating ourselves and rethinking our standard methods as a marketing agency to ensure we are more inclusive of all ethnicities. As a Latino-owned business, we empathize and support the Black Lives Matter movement.
Eric Diaz, co-founder of Nativa, has been very active with this topic and was recently quoted by the Phoenix Business Journal regarding actions the Nativa agency is taking to support the Black Lives Matter movement.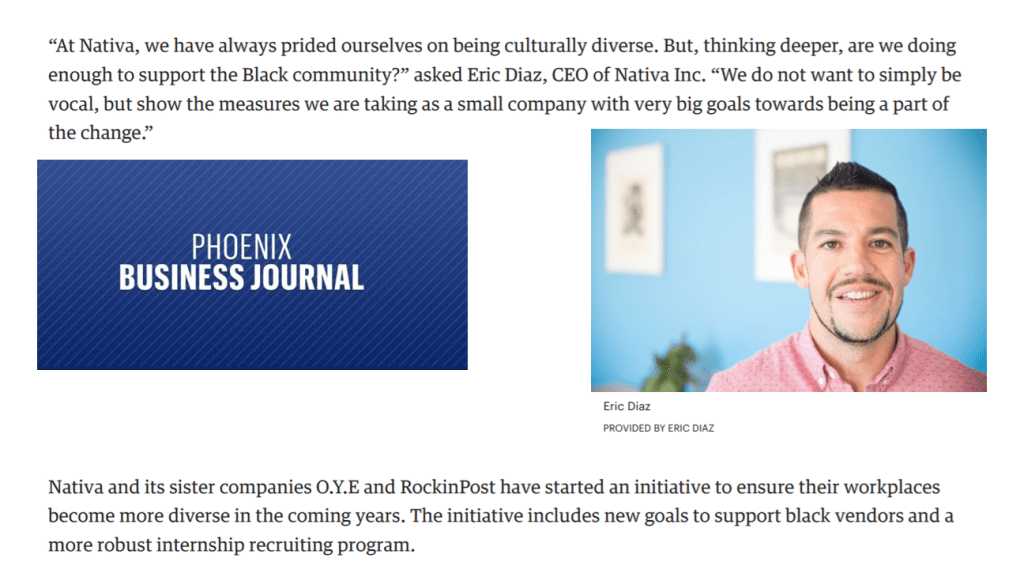 Is an honor to be able to show our support during this important time in history and help other companies as well with our research. Click here to see all free reports from our sister company O.Y.E. on how companies are supporting the Black Lives Matter movement.
Download and read the article on what minority business owners are doing to create a more inclusive workplace from the Phoenix Business Journal.
Original article from the Phoenix Business Journal (paywall):  https://www.bizjournals.com/phoenix/news/2020/07/24/phoenix-minority-business-owners-weather-the-storm.html