Ever since the lockdown, society has had to get very familiar with video conferencing applications. Services such as Zoom, Google Meet, and Microsoft Teams saw a dramatic increase in usage as the world transitioned into working remotely. So after all this time, which service is the best? We recently used O.Y.E. software to provide an analysis of the conversation occurring regarding the most popular video conferencing app. Check out all 3 resources below, including a downloadable case study, a Podcast, and a Videocast. Whatever your media consumption preferences, we've got you. Enjoy! If you like what you see then you'll love these blog posts as well!

Downloadable Case Study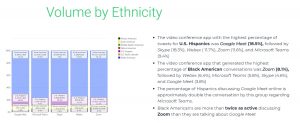 Videocast
See the full videocast here:
Podcast
Listen to the full audio here:
Want more inside takes from O.Y.E. Short Studies?
Join our mailing list to get all short studies delivered to your inbox