While many research studies have been conducted to analyze data on the most effective platforms for reaching different groups of consumers, the economic power of today's Latino consumer is no secret. Brands and social media influencers are collaborating to market products on social platforms.
"Many Latinos are both empowered consumers and influential co-creators in the digital age – that is an exciting and powerful combination," explains Maria Cabo, Digital and Multicultural Strategist.
An August 2016 Nielsen report states that at nearly 57 million strong, Hispanics represent almost 18% of the U.S. population. What's more, this demographic is expected to account for 24% of the population by 2040 and 29% by 2060.
A study by Acosta Sales & Marketing and Univision Communications, also from August 2016, reveals that U.S. Hispanics are spending more on consumer packaged goods.
Brands are Working with Micro–Influencers
Of course, brands and agencies are taking notice, but the age of information has also ushered in an era of hyper-connectivity, co-creation, and cynicism on the part of the tech-savvy consumer. With that in mind, many forward-thinking companies are turning to an approach that is coming of age and is becoming a must-have for many brands to label evangelism: social influencer marketing.
Admittedly, there seems to be a lack of consensus among different marketing experts when it comes to who exactly is an influencer and the threshold that distinguishes a 'micro-influencer' from a 'macro-influencer' (aka 'influencer'). Some sources say that a micro-influencer is one who has between 10,000 to 150,000 followers on Instagram, while others say that number can be as low as 1,000.
"Latino consumers will often take notice and take action when they receive an idea or recommendation from a micro-influencer they know and trust such as their mamá, amiga or vecina (neighbor) in addition to direct messages from a brand or celebrity-status macro-influencer", explains Maria Cabo. "While many brands are leveraging macro- and micro-influencers, opportunities abound in maximizing the full potential of influencer marketing as a strategic priority and driver of a successful multicultural consumer journey."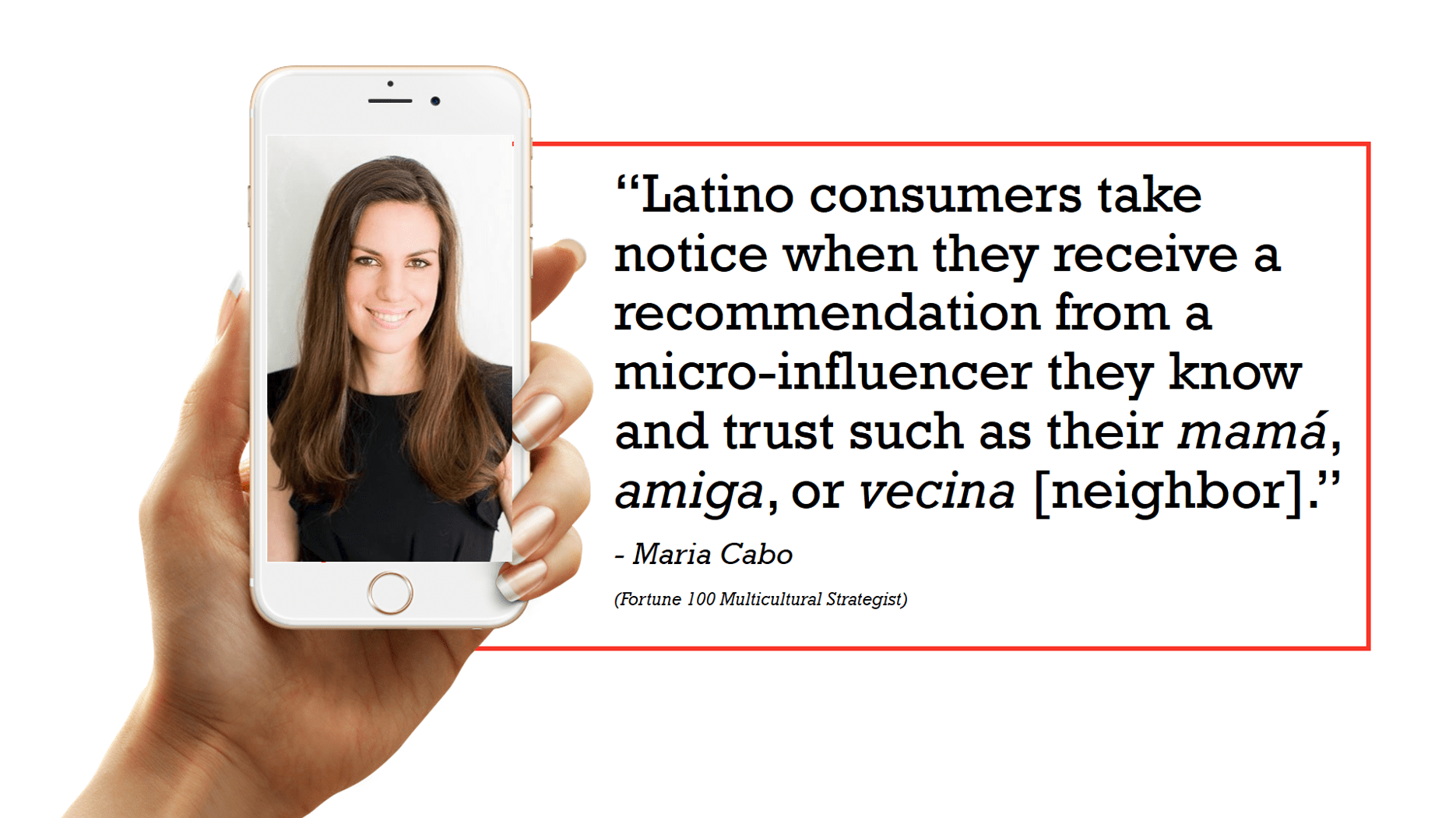 The Value of Latino Social Media Influencers
This epiphany, in turn, gives way to a lucrative industry for Latino and multicultural bloggers and social media mavens who have a consistent tribe of engaged followers. Indeed, most Latino social media influencers who are active on social platforms such as Facebook, Twitter, and Instagram, have no doubt utilized the hashtags #spon, #sp, or #ad a time or two, at least.
Granted, many of these Latino social media influencers (who dominate the realms of Facebook, Twitter, Snapchat, Instagram, and Pinterest, among other platforms) might not possess the following of superstars like, say, Selena Gomez, who boasts 120 million followers on Instagram, and reportedly can command $550,000 per social media posting, working with brands such as Coca-Cola, Pantene, and Kmart.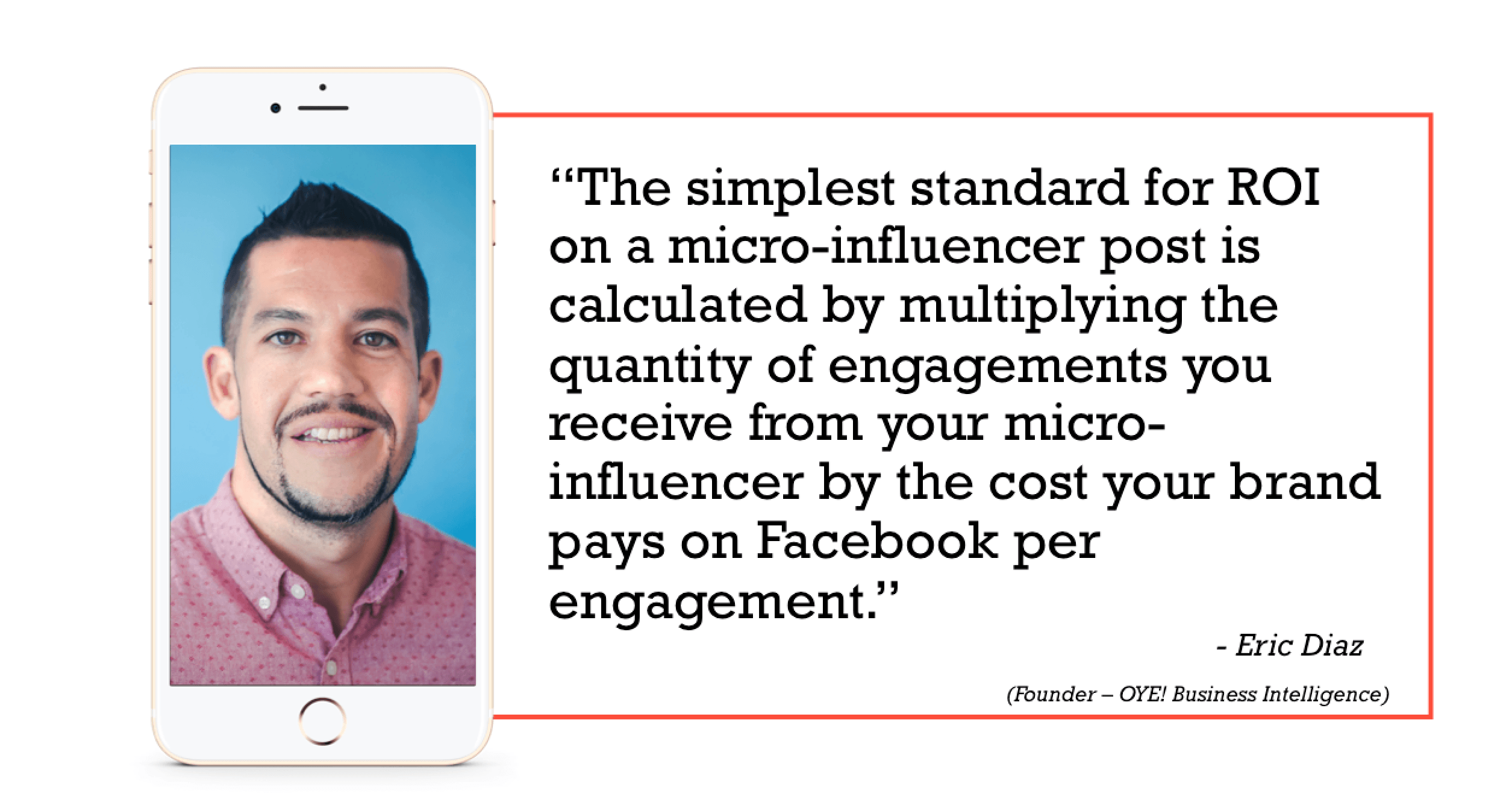 Eric Diaz, Founder at OYE! Intelligence, explained the calculation of micro-influencer ROI in a recent presentation for a live audience at Collectivo in association with the American Marketing Association; "There are many calculations on the value of micro-influencers sharing your brand. The simplest standard for ROI on a micro-influencer post is calculated by multiplying the quantity of engagements you receive from your micro-influencer and multiply it by the cost your brand pays on Facebook/Instagram per Engagement."
Levels of Influence with Latino Micro-Influencers
But when it comes to owning their social media prowess, Latino such as Becky García of Becky Boricua, Juan Alanis of Juan of Words, and José Sánchez of Piccolo Mondo PR, to name a few are considered by some brands as micro-influencers, who are clearly holding their own.
On their blogs and social media platforms, these powerful, savvy influencers have collaborated on campaigns with brands such as McDonald's, Dove, Macy's, and the NFL. Each has leveraged his or her personal following and niche to garner interest in and engagement with a particular brand.
"When you see a sparkly diamond ring on the finger of a proud and happy woman, you think of one thing: engagement. And when you think of micro-influencers, the same word should pop to mind," reads a May article in AdWeek.
And while a person with, say, 2,000 followers on Instagram might not sound like your best bet for a nationally branded campaign, a recent study from Adweek suggests otherwise.
"It turns out that once a social media influencer reaches a critical mass of followers, audience engagement actually begins to decrease," reveals the April article. "A survey of 2 million social media influencers by influencer marketing platform Markerly showed that when evaluating unpaid posts, Instagram influencers with fewer than 1,000 followers have a like rate of about 8 percent, while those with 1,000 to 10,000 followers have a like rate of 4 percent." 
Latina Instagram Micro-Influencer – Tyannah
Another prime example of this consistent engagement phenomenon is Tyannah Vasquez, or @iamtyannah on Instagram. With currently over 29,000 followers on Instagram, she uses her platform to not only share her music, but also to share her journey to becoming a successful recording artist, as well as her favorite beauty must-haves.
(Check out Lillian Martinez's interview with Tyannah and her insights on working with a Latina micro-influencer.)
When asked about her formula for success as a social media influencer, Tyannah shared that authenticity is key to her brand. "I don't false advertise, if I believe in the brand then I will share it." And to those looking to engage the booming Latino market, she advises, "Culture is very important. Brands need to relate to people of different ethnic backgrounds."
The Optimum Level of Micro-influence
Finding the best mix of micro-influencers for your brand can be complex. Maria Cabo suggests that being both data- and culturally-driven is key. "A solid way to kick-start or take your influencer strategy to the next level is to use data from digital and social listening tools plus qualitative cultural insights to identify, track, and continuously refresh your approach", advises Cabo. "As the digital era flows into the cognitive era, the changing partnerships between big data in the cloud and real people in our communities will keep evolving our understanding of micro-influence; and this thing we call marketing."