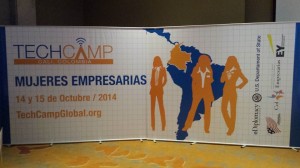 Agency Co-owner, Natasha Pongonis, is currently forming part of a group of select businesswomen who are attending and training for two days in Cali, Colombia at the global TechCamp event, the first camp focused on women entrepreneurs.
According to the organization's site, "TechCamp is a program under the U.S. State Department's Civil Society 2.0 initiative launched by the former US Secretary of State Hillary Clinton that connects civil society organizations (CSOs) across the globe with new and emerging technology resources to solve real world challenges and build digital capacity."
This event is incredibly important due to its focus on women entrepreneurs in the region, which directly affects Nativa's interest, as well as influences our leadership and capabilities in the U.S. market.
"Unlike traditional conferences, TechCamps are highly interactive workshops. A majority of the conference is spent in small group discussion, allowing CSOs to drill down into their unique challenges and spend time with technology experts who can walk them through the application of tech solutions to these challenges."
This exciting event and learning opportunity is all part of the WeAmericas: Women's Entrepreneurship in the America's initiative, which was launched by President Obama at the Summit of the Americas in 2012.
Follow Natasha's progress on Twitter @NatashaPongonis.
ABOUT NATIVA

Nativa is a multicultural communications agency that focuses on the Hispanic market through digital communications, online advertising and culturally relevant content creation. Nativa also provides traditional marketing services through strategic partnerships with specialized agencies.

ABOUT NATASHA PONGONIS
Natasha Pongonis is the co-owner of Nativa, a multicultural communications agency and the CEO of OYE! Business Intelligence. Natasha is a business communications expert with extensive marketing experience; she has developed key digital strategies for many organizations and governmental agencies engaging the diverse Hispanic audiences through her understanding of communication between cultures, traditions, and regional variations of Spanish.
ABOUT WEAMERICAS
WEAmericas was launched in 2012 by President Obama at the Summit of the Americas. WEAmericas leverages public-private partnerships to encourage inclusive economic growth in the Western Hemisphere. The initiative reduces barriers and increases opportunities for women entrepreneurs to start and grow small and medium-size enterprises (SMEs) by improving: access to markets; access to capital; skills and capacity building; and leadership opportunities.