Competitive Data Analytics & Marketing Strategy

JobsOhio approached Nativa with the goal to identify talent in the state of Ohio and nationwide as well. The plan was to monitor 15 different professions via social media, websites, and forums to observe online conversations to find talent, trends, and partnership opportunities for JobsOhio. Based on the monthly reports and data-driven insights, Nativa will continue to help JobsOhio in retaining and attracting talent for Ohio as well as identifying trends occurring online among the 15 professions.
Nativa gathered dozens of keywords for each of 15 professions along with terminology and hashtags associated with these professions in order to find relevant online conversations on a monthly basis. Nativa creates monthly reports based on the data collected for each profession and provides data-driven insights. Also, Nativa provides multiple benchmarks for each profession to keep track of important metrics such as volume, gender, keywords and hashtags, and more.  Through this, the client obtains a clear view of what is occurring online each month for each profession allowing them to keep track of talent and trends for these 15 professions.
By offering our client consistent reporting with competitive insights, Nativa has helped JobsOhio not only to retain talent in the state of Ohio but to also identify and attract talent nationwide. Nativa insights have helped JobsOhio observe trends occurring in near real-time for these 15 professions since early 2017.

Demographics as well as top jobs shown for JobsOhio during the analysis.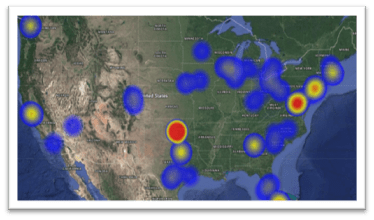 Top regions were discovered in red which indicates locations where job conversation was heaviest.
WE KNOW SOMETHING ABOUT YOUR CUSTOMERS YOU DON'T.
Find out what it is…and so much more.